On Saturday we wanted to do something new...there is a pretty good hiking place nearby so we decided to be healthy (as opposed to sleeping in and watching TV). The wife packed a little lunch, strapped on the shoes, did a little stretch and went for it!
The start of the trail...
The plan
About an hour and a half later we made it to the top. I'm dumb and didnt take a pic of the wall itself, but in this picture we are standing on the wall. It's sweet looking. Maybe next time I'll snap a better pic ;)
Our little picnic ;) Asian pears and a rice ball each.
My wife makes a good tuna rice ball;)
This is the view...we are in front of Sintanjin area (about 15 minutes drive from home...the little town Nayeon is from)...we can even point out her parents apartment buildings ;)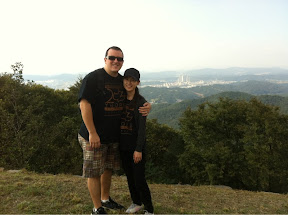 On the way down we stopped by this red clay water pool and soaked out feet. This trail is special because they have a quarter of the path cover led with soft red clay. People walk on it barefoot, to make the soles of their feet healthier with all of it's nutrients and goodness juice (I'm getting this all from broken-English speakers).
We walked up all the way in shoes, but challenged ourselves and went barefoot all the way down on the clay path...it was nice...I joked with Nayeon..."Ohhhhh....Ohhhhh so healthy....ohhhhh!" I'm a jerk lol
We treated ourselves to some sweet red bean popsicles (sounds gross but it's actually good)
This was a really great day. I'm happy to do nice things with my wife and enjoy each other's company. I get to do stuff like this the rest of my life, I'm so blessed :)
Oh and someone on Sunday (at church) heard I went to the barefoot hiking trail and took off my sandals and checked out my feet and said "Oh wow, healthy!" bwahaha ohhh Koreans! So silly...