Well the conference is finished and it's time to catch our place home!
The Korea Boys ;) Pastor Peter from Cheonan and Pastor Mike and I from Daejeon ;)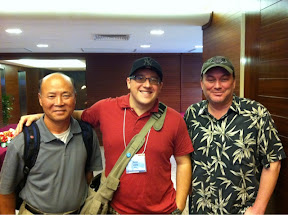 Getting on our airplane! To home we go!
They had barely anyone on the flight so we got to stretch out and take the middle rows...I laid down after the meal across the three seats ;) Nice!
So we are back safely now and getting ready for the big Chuseok (Korean Thanksgiving) Holiday ;) will be working hard at the inlaws rice cake store :/ pray for strength!